Custom Wristlet Strap Keychain with Fur Ball Charm
&

Tassel
This fashionable wristlet strap keychain is made of strong but soft & flexible twill weave fabric with high quality metal clasp & leather. It won't add any unnecessary bulk or weight to your keys and will comfortably slide onto your wrist or into a pocket or bag with ease!
Your custom pattern will be dye sublimation printed on the soft polyester strap; there is a leather connector at the end of the strap, your branded logo can be displayed right here as well (by debossing).
This wristlet strap is 100% customizable with your own size & design, the fur ball charm and tassel are optional parts!
Send your artwork with specification (size, photo, quantity etc.) then we can quote you accordingly! Feel free to contact us directly for more details & free quote at inquiry@promotionalgift4u.com  Explore our Custom Hand Wristlet Strap Short Lanyard for Keys to promote your business TODAY!
This fashion wristlet strap short lanyards are perfect for attaching Keychain / ID Card Badge Holder / Car Key / Cell Mobile Phone / Ornaments / Charms / USB / Electronic Items / iPod / USB or any other lightweight items.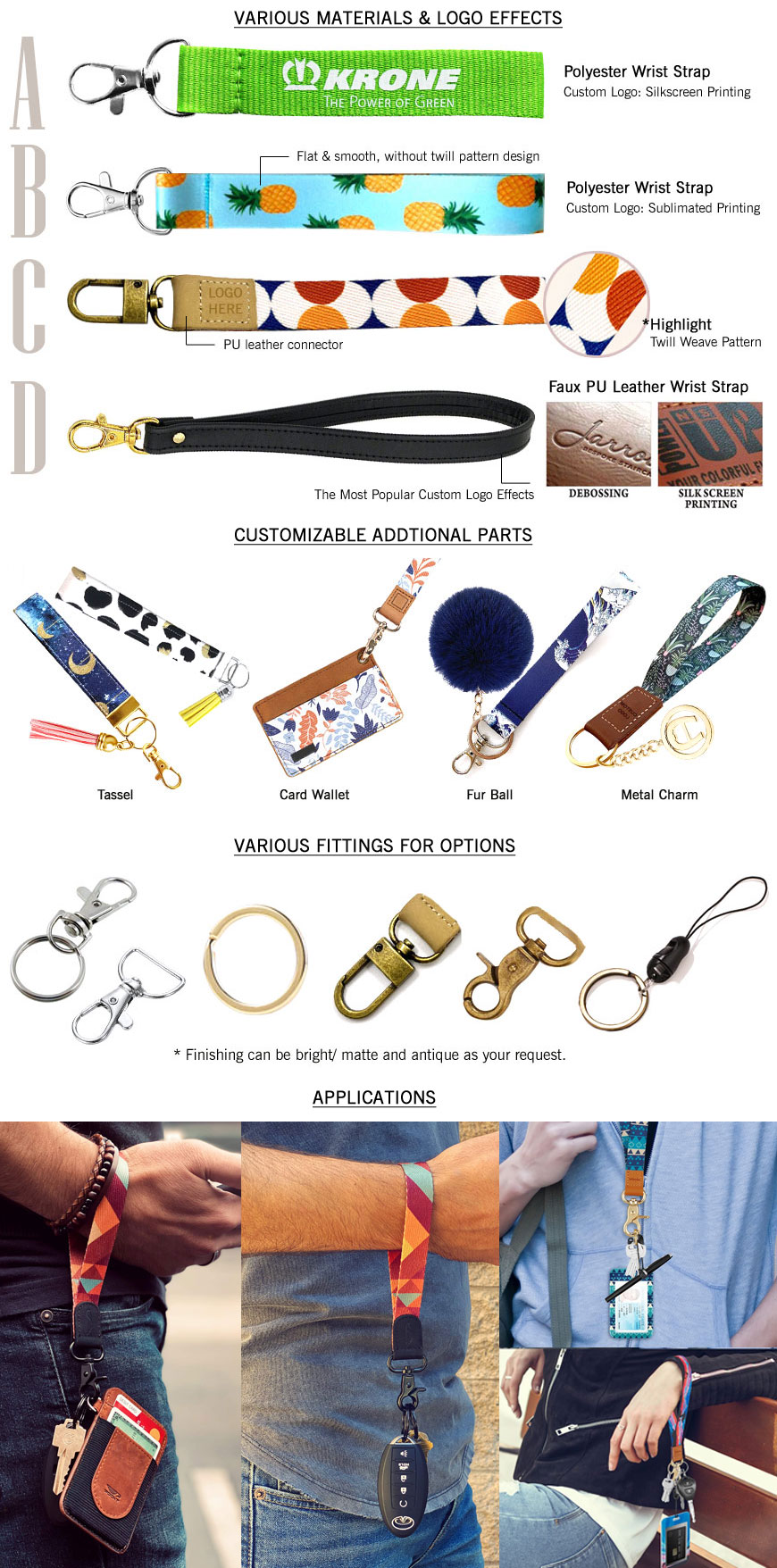 Custom Printed Twill Weave Wrist Short Lanyard Keychain
We designed our lanyards to be sturdy, high quality, and useful. Our lanyards are made with durable materials so you can feel safe knowing that your stuff is secure. With a lightweight and comfortable strap, use this lanyard with ease while carrying it or wearing it around your wrist. You can also let it hang from your pocket or stuff it in your backpack or purse.
Material: polyester lanyard
Size: 20mm x 200mm (not include faux fur ball charm and tassel)
Design: heat transfer printed on both sides
Attachment: a PU leather connector, a metal clip, a faux fur ball, and a suede tassel
MOQ: 100pcs per design (we have three existing designs for your options)